Summer Tutoring to Catch Up or Get Ahead for the Next School Year!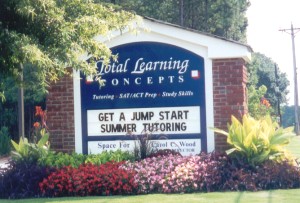 Each summer during June, July and August, Total Learning Concepts offers tutorial sessions and special camps to students who need to "catch up" in skills or who want to enrich their skills for next school year. Summer is an invaluable time for students to solidify their academic base. A strong academic foundation is essential for a student to advance to more complicated and comprehensive subject matter.
We offer individualized reading, writing, math and science sessions and subject tutoring for those enrolled in their schools' summer school program. Our hours for tutorial sessions in the summer are Monday through Thursdays, 10 a.m. until 8 p.m., and Fridays 10 a.m. until 5 p.m.
Monthly Tuition
for Individualized sessions
$205/month for 1 hour/week
$320/month for 2 hours/week
$420/month for 3 hours/week
$520/month for 4 hours/week
etc.
Sessions Scheduled on an Individual Basis. In-Person Consultation Required.